These themes were the major dominating fundamental factors through November, as hopes for things to go back to normal (pre-covid) ignited some sectoral rotation. The rotation occurred mainly between work-from-home stocks and traditional businesses, which helped indexes like the Dow Jones (DJIA) and Russell 2000 take the lead from the Nasdaq 100.
© Mike Hodges
The Nasdaq 100 (NDX) has rounded off November on a positive note, after the month up by more than 11%. This surge was mainly stimulated by the recently-concluded US Presidential election and the discovery of potential COVID-19 vaccines.
Nonetheless, the NDX remains in a favorable position as markets enter the close of 2020. That said, stimulus hopes and potential political stalemate in Washington over most of President-elect Biden's policies could cause the Federal Reserve to maintain its dovish outlook, which would be very beneficial for NDX bulls.
That said, it is likely that there are tailwinds present in the equity market ahead of December and 2021. However, there's the possibility that the NDX could fall into consolidation before we see a continuation to the upside, as the US Presidential election-induced volatility has now been weaned out of the market.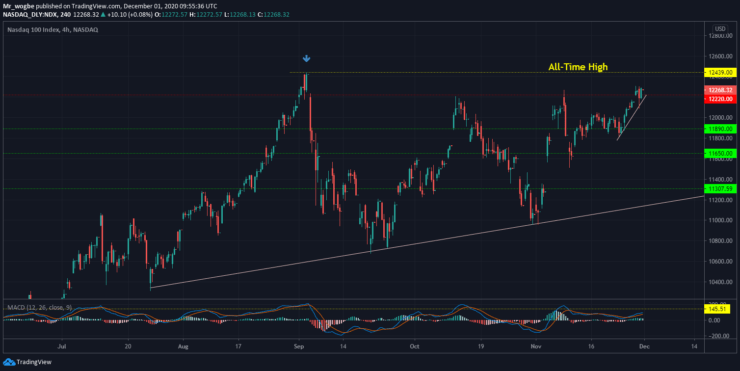 Nasdaq 100 (NDX) Value Forecast — December 3

NDX Major Bias: Bullish
Supply Levels: 12300, 12370, and 12439.
Demand Levels: 12220, 12000, and 11890.
The NDX is on an aggressive bullish rally as it inches closer to its all-time high at 12439. At the moment, the 12220 support will likely prevent any sustained decline given the confluence of indicators (ascending trendline and 12220 crucial support) at that level.
We expect the NDX to break its previous all-time high and record new peaks in the coming days before consolidation likely sets in.
Source: https://learn2.trade
CLICK HERE TO REGISTER FOR FREE ON ADVFN, the world's leading stocks and shares information website, provides the private investor with all the latest high-tech trading tools and includes live price data streaming, stock quotes and the option to access 'Level 2' data on all of the world's key exchanges (LSE, NYSE, NASDAQ, Euronext etc).