Currently, investors are wracked with fears over the dwindling prospects of second domestic stimulus measures in the US, coupled with the weaning possibility of a sharp economic recovery.
©
Over recent days, Bitcoin (BTC) has been forging a strong correlation to the equities market once again and it has been observed that this occurs usually when global uncertainty is rife.
Also, the upcoming US presidential elections are adding to the growing uncertainty surrounding the markets. These fears will likely remain unsolved in the near-term, making further choppiness in the equities market very possible.
That said, Bitcoin will likely get caught up in the mix, giving its correlation to the stock market.
Meanwhile, an On-Chain analyst has said that he expects the Bitcoin-Equities correlation to fade in the coming months. He explained that subsequent sharp declines in equities will eventually stop pulling Bitcoin lower as the crypto reaches its lowest technically possible levels.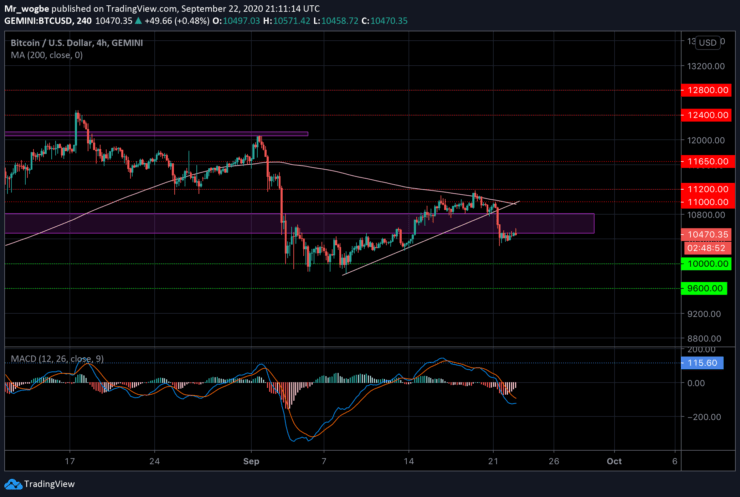 Key BTC Levels to Watch
At press time, Bitcoin trades at $10,511, about 0.8% increase in the day. However, it remains trapped in its weekly consolidation range.
Last week, bulls attempted to pull the benchmark cryptocurrency out of its downward spiral and ended up taking the price to highs of $11,200. The rejection from that level was decisive and sharp, causing Bitcoin to fall to the level it currently trades at.
Meanwhile, the equities market was able to post a modest recovery today, which, as an extension, has given Bitcoin a reprieve for the near-term.
Still, the absence of any significant positive development around the US stimulus program or the pandemic-induced economic crisis may continue to burden the cryptocurrency market from rising in the near-term.
Total market capital: $333.6 billion
Bitcoin market capital: $194 billion
Bitcoin dominance: 58%
Source: https://learn2.trade
CLICK HERE TO REGISTER FOR FREE ON ADVFN, the world's leading stocks and shares information website, provides the private investor with all the latest high-tech trading tools and includes live price data streaming, stock quotes and the option to access 'Level 2' data on all of the world's key exchanges (LSE, NYSE, NASDAQ, Euronext etc).