Careers at ADVFN
ADVFN is the UK's largest stocks and shares website with millions of registered users relying on us for reliable, up to date stock prices, detailed financial information about companies and lively, active chat on our forums.
We are always looking for smart, enthusiastic and motivated people to join our team. Even if there are no jobs advertised below, send us your CV to jobs@advfn.com if you think you and ADVFN would be a mutually good fit.
---
Current Vacancies
PHP Developer for ADVFN's Brazilian Site
Enthusiastic developer wanted for financial website.
Key skills: PHP (in good objected-oriented style), HTML, CSS, JavaScript, MySQL, PostgreSQL, git, design patterns (especially MVC).
Knowledge of Java, financial markets, streaming data an advantage.
ADVFN, the UK's leading stocks and shares website, is looking for an enthusiastic developer with a good knowledge of object-oriented PHP and a keen interest in learning new programming languages and technologies.
We want a programmer who wants to get their hands dirty, solve interesting problems and design beautifully crafted, cutting edge software. Right from the start you will be working on brand new software as well as optimising existing code.
As a website specialising in live streaming data for financial markets we make a point of reacting quickly and use a lean, agile development style.
Competitive salary, based on experience.
Fluency in Portuguese preferable.
Contact jobs@advfn.com with your CV.
Ref: PHPB001
Junior Marketing Executive
We are looking for an enthusiastic college or university graduate to be involved in developing marketing campaigns in Digital Media.
Main objectives for the role include:
Implementation of marketing plans, including product positioning, campaign strategies, and market strategy insights.
You will support and work closely with the PR and Marketing manager to deliver the marketing and PR plan, developing overall brand awareness.
To be successful as our Marketing Assistant a solid knowledge of social media channels is prerequisite as part of the role will be the day-to-day running of social media accounts and building of the channels.
The position requires a willingness to take on responsibilities and challenges, and display a good-natured, cooperative attitude
On the job training will be provided
Contact jobs@advfn.com with your CV.
Ref: JME001
Digital Media Sales Executive
Exciting chance for a talented and hungry digital media sales professional to join one of the worlds largest on-line financial publishers. You will be selling digital media solutions to clients directly and to major agencies.
Main objectives for the role include:
Building a new client base with non-endemic brands with major advertising agencies – British Airways, IBM etc.
Building a new client base of financial service providers with advertising agencies and clients directly
Development of our international advertising client portfolio within the following regions: Japan, Italy, Germany, France, Mexico, Brazil, UAE and North America – possible travel needed
Other opportunities within the role include: Exhibition Sales, Direct Mail Sales and Content Development with a Sales focus - so for a hungry and talented sales person there really is no limit to their earnings potential at ADVFN.
Contact jobs@advfn.com with your CV.
Ref: ADV001
Sales & Technical Support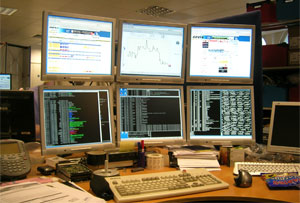 Fantastic opportunity for a superstar sales & customer service person with technical support skills to join our team full-time. You will be in contact with users through emails, phone calls and live chat.
Future and genuine career opportunity.
Responsibilities:
Providing technical support for UK customers
Selling subscriptions to our users
You must be:
Sales and customer service oriented
English - mother tongue (additional language is a plus)
Keen on the financial market
Great communicator via email and/or phone
Technically oriented person who can easily use Windows, Mac and Mobile Devices
Fast learner
Self-starter that will be able to work independently with minimal supervision
Multitasking
Detail oriented with high level of accuracy
Contact jobs@advfn.com with your CV.
Ref:AFNSupport382
Junior Web Designer
This is an exciting opportunity to gain experience of working as a graphic designer in a high-pressure commercial environment. The applicant will need to be able to demonstrate a strong interest and aptitude in web page layout and advert design, as well as possess a basic knowledge of Photoshop, Illustrator and Dreamweaver. The position will involve a high turnover of work to short deadlines. Good communication skills and attention to detail are vital.
Main objectives for the role include:
Assisting and reporting to Senior Graphic Artist
Supporting the sales and development teams
Designing website banners, page layouts and emails
Working well in a team environment
Please forward your CV with covering letter to jobs@advfn.com.
Ref:ADVArt
---
Kobayashi Maru
If you are a developer and would like to work with ADVFN, have a look at the information below.
U2VuZCBhbiBlbWFpbCB0byBqb2hud0BhZHZmbi5jb20gYW5kIGNocmlzbkBhZHZmbi5jb20gd2l0aCB5b3V
yIHBob25lIG51bWJlciBpZiB5b3Ugd291bGQgbGlrZSB0byB3b3JrIHdpdGggdXMgYXMgYSBkZXZlbG9wZXIu
---